Zoom in
Name:

HZS60 concrete mixing station

Minimum Order Quantity:1 Set/Sets
Supply Ability:15 Set/Sets per Month
Payment Terms:L/C,T/T
Product Description
HZS60 concrete mixing station Introduction:
HZS60 concrete mixing plant also called : HZS60 mixing station, concrete mixing plant China, HZS60 station, 60 engineering stations, 60 stations, HZS60 concrete mixing station with compulsory twin shaft mixer JS1000, by cement silo | cement tank, screw conveyor, PLD batching machine, twin shaft mixer, computer control and measurement systems and other components of the composition, theory production rate of 60 cubic meters per hour, to centralized control, the other one with three bucket-shaped, cement, additives metering, mixing station control room computer .
Concrete mixing plant 60m3/h classification
Concrete batching machine can be divided into a host of different single and double HZS60 mixing station project mixing plant,
1,concrete mixing plant HZS60 single 60 m3 per hour productivity theory;
2,double HZS60 concrete mixing plant productivity theory is about 120 cubic meters.
The Guide Of Concrete Batching Plant Installation Equipment
On-site installation conditions and requirements for hzs60 concrete mixing station :
Ground equipment installation by the user before the device according to the foundation provided by the seller complete the drawings, and have the condition of the equipment installed. Before installing the equipment and install the unit on the foundation for further examination, if found that the foundation does not meet the requirements of the drawings, the installation has the right to refuse to install the concrete mixing plant turkey. Ground maintenance period of not less than 15 days.
1. Staffing
1) The user must set up concrete mixing station installation site installation team, clearly responsible, responsible for equipment installation
Matters relating to decision-making power.
2) Install Staffing
3) welder 1-2: must be able to carry out skilled welding, gas welding operations jobs, skilled on-site installation. Electrician
2: Must be proficient in wiring, the wiring job.
Mechanical installation technicians 2-4: You must be familiar with the field of mechanical installation work.
Some were ordinary workers
Installers have more than two years of work experience in the installation, you must have security experience.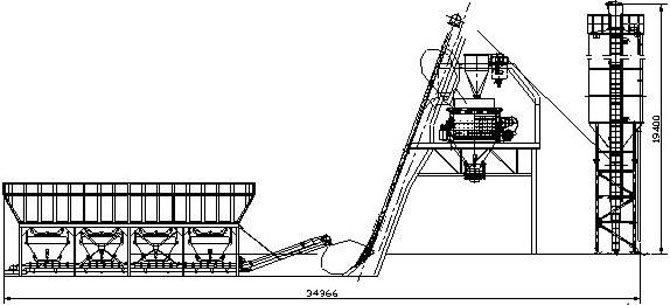 Technical parameters of HZS60 concrete mixing station:
1,Theoretical productivity 60m3 / h
2,Mixer Model JS1000
3,Mixing motor power 2 × 18.5 kW
4,Cycle 60s
5,Mixer nominal capacity 1000L
6,Powder warehouse capacity 2 × 50t
7,Ingredients Ingredients station capacity 1600L
8,Aggregate storage capacity of 3 × 17m³
9,Aggregate types 3
10,Aggregate belt conveyor productivity 140 t / h
11,Screw conveyor for maximum productivity 110t / h
12,Discharge height 3.8m
13,100KW capacity
14,Aggregate weighing range and accuracy (0 ~ 3000) ± 2% kg
15,Cement weighing range and accuracy (0 ~ 900) ± 1% kg
16,Fly weighing range and accuracy (0 ~ 900) ± 1% kg
17,Water weighing range and accuracy (0 ~ 300) ± 1% kg
18,Additive weighing range and accuracy (0 ~ 20) ± 1% kg
19,Standard reference amount of 50 × 103kg