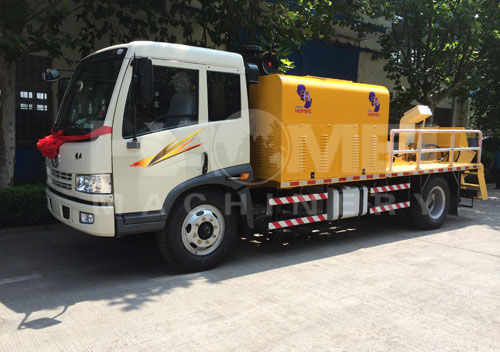 Zoom in
Name:

HDT5120THB Truck-mounted Concrete Pump Sale

Minimum Order Quantity:1 Set/Sets
Supply Ability:15 Set/Sets per Month
Payment Terms:L/C,T/T
Product Description
Instruction of Truck-mounted diesel concrete pump for sale
The Haomei HDT5120THB truck-mounted concrete pump with boom is developed by Haomei Group on the basis of drawing on advanced domestic and foreign experience and using advanced modern computer simulation techniques to systematically analyze the effect of changes in various parameters like stress, displacement and natural frequency on the boom's fatigue life. Meantime, Haomei Group optimized the design of the hydraulic system, adopted the latest free fluid technique and greatly lessened the impact of pumping commutation on the distributing boom. In the boom structure optimization and the hydraulic system design, Haomei Group has obtained many patents. The consummate control of product quality, perfect techniques of product manufacturing and strict procedures of quality inspection make the Haomei pump truck a leading product in China and an advanced product in the world. All the steel plates for the boom system are high-strength cold rolling steel plates made by the Swedish company SSAB. The yield strength of the plates exceeds 900Mpa, which ensures that the boom system has high strength and light weight. The boom system's distributing pipe, landing legs, oil tank and soon have all received 100% stress-removing treatment after welding. Every welding seam has passed the 100% undamaged and crack detection or X-ray radial check to avoid any tiny defects and to make the machine more enduring.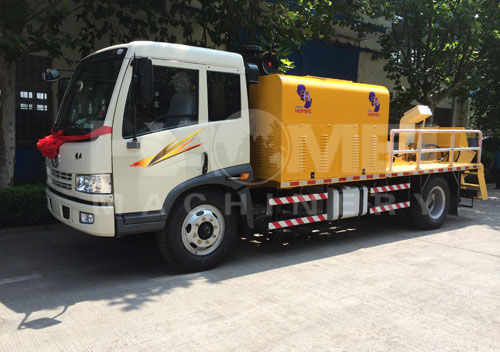 Main features of HDT5120THB Truck-mounted concrete pump
1. Adopting the special chassis for Dongfeng brand heavy-duty truck, elegant and unique appearance, comfortable to drive, strong in horsepower, low in oil consumption, reliable and durable in performance.
2. The power system which adopts the world-famous 6-cylinder DACHAI-DETUZ diesel engine has stable and reliable performance. Equipped with the auto throttle, the engine shows an economical efficiency of fuel consumption.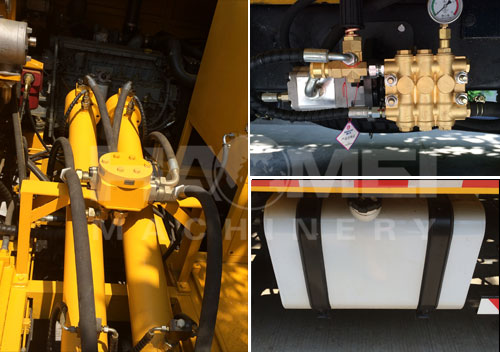 3. The hydraulic system adopts the German REXROTH oil pump and the American VICKERS control valve, which match perfectly and have higher efficiency.
4. The main electric components of the PLC computer control system are brand products made by SIEMENS, LG, SCHNEIDER and so on.
5. All operations can be carried out by short-distance control and wired remote control. There are two separate operating devices, ensure the reliability and safety of the equipment.
6. The S-shaped reversing valves, hard alloy eyeglass plates and cutting rings, rubber springs which can automatically compensate the clearances between end faces, all ensure a proper sealing property.
7. The mixer can rotate forward or backward and rotating speed can be regulated so that the problem of aggregate blocking can be settled in time.
8. The big-diameter conveying cylinder has a strong suction ability and can afford large pumping flow. The pumping capacity can be regulated through the stepless control device to get different outputs.
9. The equipment has such functions as positive pumping, reversing pumping and inching. The conveying pipe is easy to clean and the concrete piston is very convenient to replace.