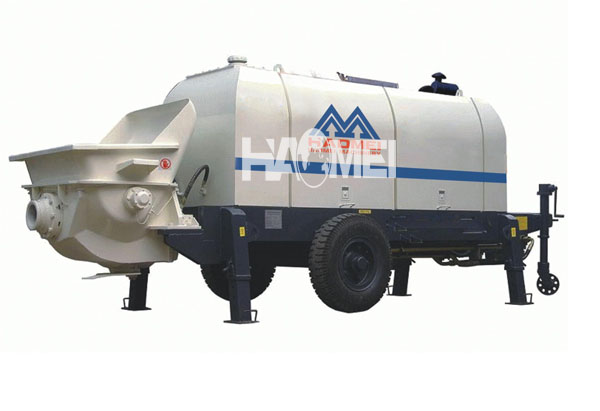 Zoom in
Name:

Trailer Concrete Pump

Minimum Order Quantity:1 Set/Sets
Supply Ability:15 Set/Sets per Month
Payment Terms:L/C,T/T
Product Description
HAOMEI S-valve serial high-pressure pumps, Z-gate-valve serial medium-pressure pumps and D-butterfly-valve serial low-pressure pumps are concrete transport equipments widely applied to such building projects as urban construction, bridge, power, and energy sources, etc. The machines adopt such world advanced techniques as open hydraulic loop, distribution valve auto-compensating clearance, constant power control, total hydraulic automatic change, and electric proportional control, etc., carried out deep and meticulous studies and experiments in many aspects like concrete piston self-lubricating, etc., and has won many patents. HAOMEI trailer concrete pump is a new product at international level which is developed by combining latest technologies both at home and abroad. HAOMEI pump trailer contains three series and more than twenty product types, and HAOMEI is the professional producing base with most complete models and specifications in CHINA, which can fully meet various needs of all customers. HAOMEI pump trailer all adopts steamline production assembly while the company strictly controls all the machining processes and assembly quality and gives final test to every pump trailer by simulation working conditions and overload experiments to ensure customers' zero fault in the first operation.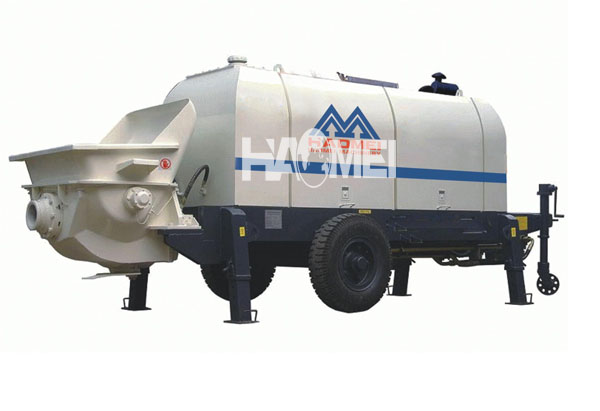 Specifications of trailer concrete pump:
1,Power system of trailer concrete pump
Main hydraulic pumps are famous German REXROTH products.
Engine:German Deutz
2,Electric control system of trailer concrete pump
The reversing control is electric-hydraulic type. The electric part is controlled by PLC, which is reliable, more accurate with small impact. The main oil pump is under the famous brand of Kawasaki from Japan.Main electric elements are imported original Schneider, OMRON, Siemens, LG, etc.
3,Hydraulic system of trailer concrete pump
The unique open hydraulic system and hydraulic cushion technology contribute to the smaller exchange impact and less heat of the system. Meanwhile, with the famous brand of main pump and hydraulic valve, the safety and reliability of the concrete pump are guaranteed.
4,Pumping system of trailer concrete pump.
Pumping displacement variable adjustment: Change the pumping displacement according to the construction to meet the requirement of the condition.
5.Lubrication system of trailer concrete pump.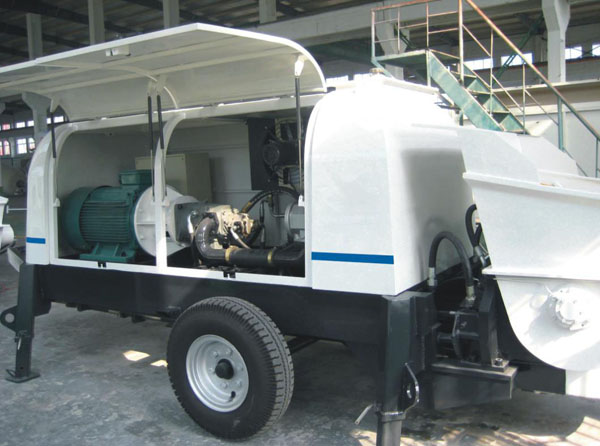 The patented central automatic lubrication system comes with a piston grease-pump, features high pressure and reliability, which can realize automatic lubrication of piston.
| | | | |
| --- | --- | --- | --- |
| Specification/items | HBT60S1413-112R | HBT80S1813-145R | HBT60S1816-110 |
| Theory Concrete Output(m3/h) | 60 | 85/42 | 60 |
| Concrete Pressure (Mpa) | 13/7.4 | 12.5/5.28 | 16/95 |
| Hydraulic system pressure (Mpa) | 32 | 32 | 32 |
| Rotation speed (r/min) | 1480 | 1480 | 1480 |
| High / low pressure switch | yes | Yes | Yes |
| Distribution valve (S) | valve | valve | valve |
| Pumping cylinder diameter/ Stroke (mm) | 195/1500 | 200/1800 | 195/1500 |
| Main oil pump discharge (ml/r) | 110 | 224 | 110 |
| Diesel engine( kw) | 112 | 145 | 110 |
| Voltage/ Frequency (V/Hz) | 380/50 | 380/50 | 380/50 |
| Hydraulic tank volume (L) | 400 | 500 | 400 |
| Height of adding material (mm) | 1355 | 1400 | 1355 |
| Hopper volume (m3) | 0.8 | 0.7 | 0.8 |
| Total mass (kg) | 5800 | 6200 | 5800 |
| Concrete slump (mm) | 120-230 | 120-200 | 120-230 |
| Aclinic Delivery distance (m) | 1200 | 1000 | 1200 |
| Theory vertical pumping height (m) | 250 | 250 | 250 |
| Dimension: L*W*H (mm) | 6240*2110*2550 | 6680*2210*2150 | 6240*2110*2550 |